This is the first Recruitment Trends and Salary Survey report by JobTube. The report is made based on 2268 jobs posted under JobTube Official Account, WeChat Groups and JobTube App for the period between April 2016 to July 2016. All these jobs were targeting foreigners and Chinese returnees with international experience.
Remark: Models, KTV and part time jobs aren't taken into account through this survey.

Jobs Categories

The education sector continues to lead all categories with almost one third of foreigners in China working in the education industry, however, we have seen increased demand in the IT and design sector.
Locations
Shanghai topped the list of cities offering jobs for foreigners and returnees with almost one third of the jobs in Shanghai alone, Beijing came second with 22% and Guangdong third.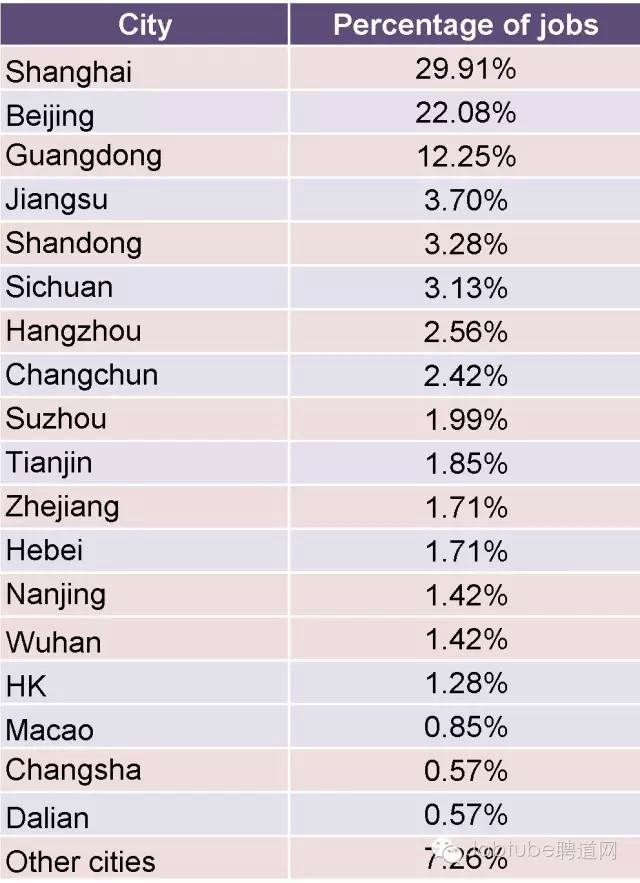 Salary Survey
Survey numbers are based on cities like: Shanghai, Beijing, Shenzhen.. In other 1st and 2nd tier cities, salaries would be less by 20-40% and 50% less in 3rd tier cities.
The salaries mentioned are gross salary, means: Before tax; before deductions; before social welfare contributions; excluding: Bonuses; share options; house allowance and other allowances.